The NRCA Conservation Ambassador Program is great for high school students (grades 9 to 11) who want to enjoy the outdoors and be a changemaker in their community. Through a summer field experience at UConn and a community environmental action project, students will explore environmental topics in a fun, exciting, and hands-on way, and receive multi-layer mentorship support and resources as they carry out a community environmental action project and contribute to real community solutions!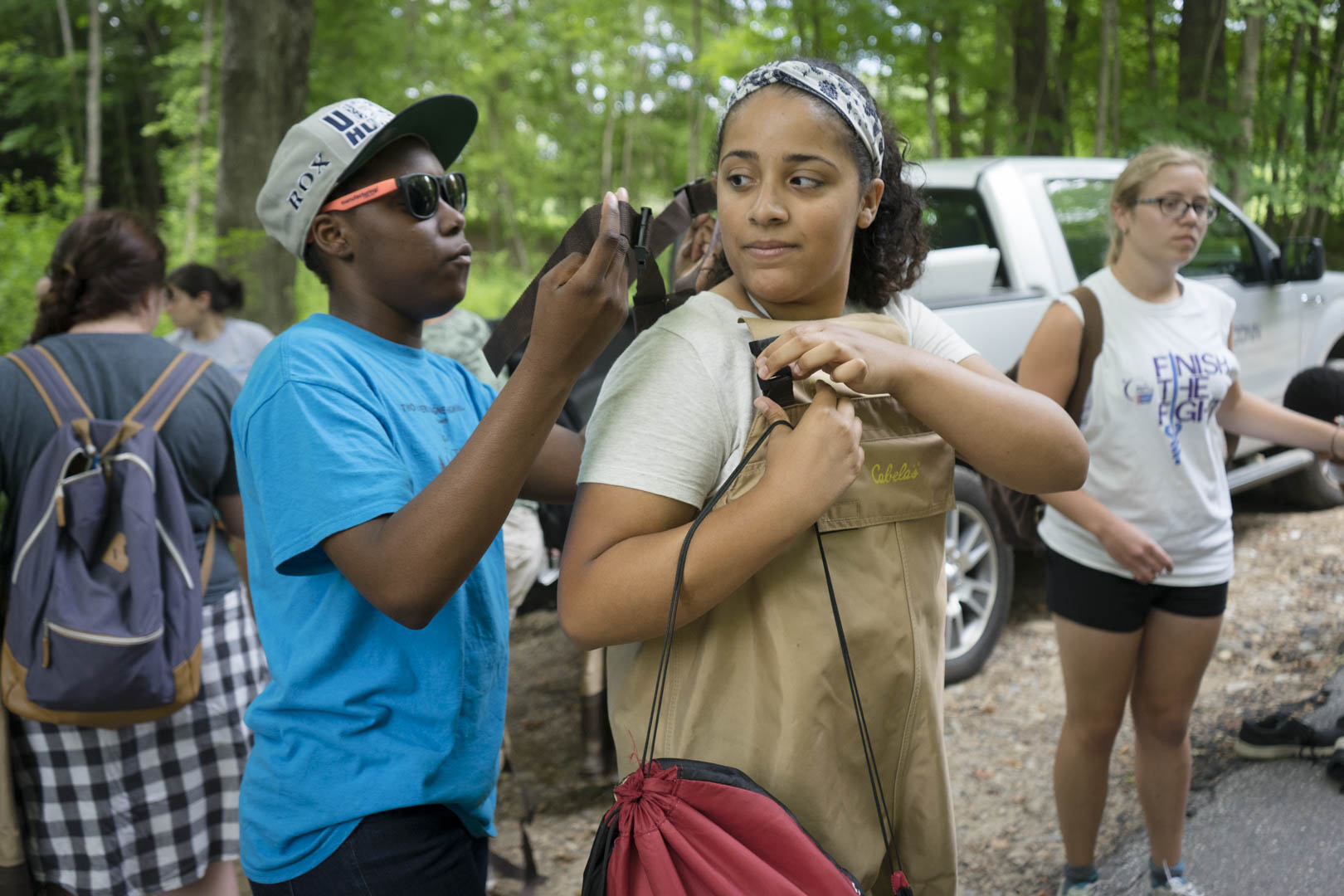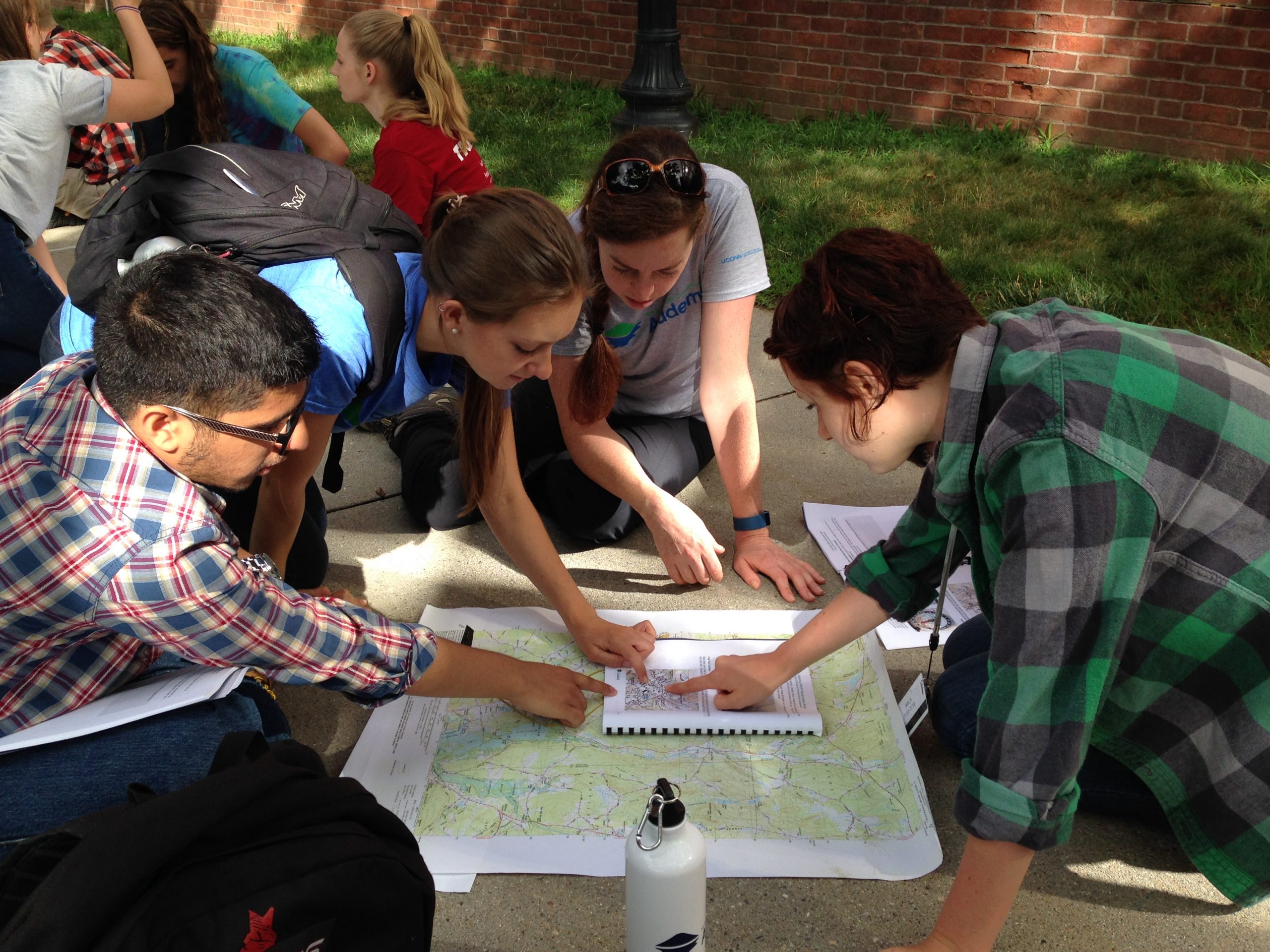 Important Dates
Date
Event
May 7, 2023
Application Due

Complete this short online application

May 14, 2023
Applicants Notified of Acceptance

Sent to your email used in application

June 4, 2023
Enrollment Forms Due

Mailed to your address used in application

July 16-22, 2023
Summer Field Experience

At UConn

August, 2023 - March, 2024
Environmental Action Project

In your community or town

April, 2024
Showcase Your Project

At UConn or CT Science Center

Program Elements
Do you want to enjoy the outdoors and be a changemaker? Join the Conservation Ambassador Program!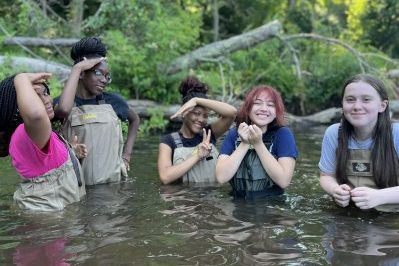 Summer Field Experience
Spend a week in July at UConn exploring environmental topics like forestry, wildlife, and mapping. Stay in dorms and get a taste of campus life, including Dairy Bar ice cream! Enjoy fun activities like BBQs, lake swimming, campfires, and more!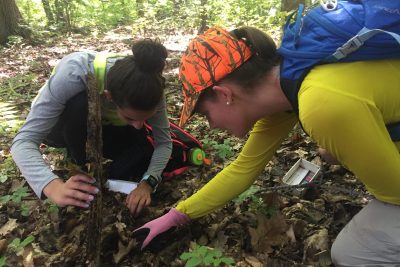 Environmental Action
Apply new skills gained from the field experience to an environmental effort that benefits your community. Get support from a UConn undergraduate near-peer mentor and adult community partner as you carry out an environmental action project from July to March.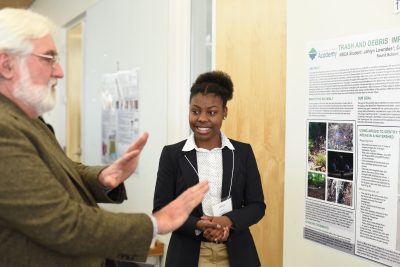 Showcase Your Accomplishments
Share your environmental action project at the Connecticut Conference on Natural Resources in the spring. This is a fantastic opportunity to develop public speaking skills, network with environmental professionals, and be celebrated for your efforts.
Learn More about Topics Taught in CAP
Remote Sensing, GPS & Orienteering
Description: Geospatial technologies such as Geographic Information System (GIS), Global Positioning System (GPS) and Remote Sensing (RS) technologies play a very important role in conservation and natural resources management. Such technologies can increase the efficiency and effectiveness of conservation programs and practices, and will serve as an underlying subject throughout the field experience. This first full day of the field experience introduces students to a range of mapping tools and techniques, and demonstrates the role that geospatial technologies play in conservation planning, implementation, and tracking. An overview of geospatial technology will be presented and the students will have a chance to participate in fun hands-on activities, such as paper map and compass orienteering and GPS geocaching.
Freshwater & Green Infrastructure
Description: Water is one of the most important resources on earth and is essential for life. Students will get in the water and learn how to measure flow in a stream, map a watershed, conduct a stream biotic survey, and sample parameters of a lake. Students will also learn about green infrastructure practices that reduce stormwater pollution, such as rain gardens, pervious pavements, and green roofs.
Forests & Soils
Description: By providing important ecosystem services and goods, such as wildlife habitat, clean water and air, recreation, timber, and scenic landscapes, forests play a vital role in human health, livelihoods, and well-being. Connecticut is 60% "forested" (i.e., covered with trees), but every year forest cover shrinks across the state. Most of the week is spent in and around the 2,100 acre UConn Forest, where students learn about sustainable forestry practices including management and conservation. Participants use newly acquired skills in paper map and compass orienteering and GPS technology to navigate large forest areas and different forest habitats.
Description: Soils are the foundation for all life on Earth. Everything comes directly or indirectly from the soil. Soil is an integral natural resource in all cycles of the Earth, but many do not understand its significance. Students will get "dirty" in soil pits and learn about the properties, features, and interpretations of typical Connecticut soils.
Fish & Wildlife
Description: Fish and wildlife are among the principal natural resources held in the public trust. While at the field experience, students will gain an appreciation for the tasks that fish and wildlife biologists undertake on a daily basis. Students will also participate in outdoor activities in and around the UConn Forest that demonstrate how data are gathered on fish and wildlife living in the forest. For example, students will join expert faculty and graduate students in tracking a wild creature with radio telemetry, seining for fishes, and measuring habitat quality.
Biodiversity in the Night
Description: The relative quiet of Connecticut forests during the day may give an impression of little biodiversity, yet there is great biodiversity. The forest comes to life at dusk as many animals have crepuscular or nocturnal habits. Joining UConn researchers in the woods at dusk, students will be introduced to our forest's nocturnal biodiversity through acoustic monitoring for bats and through black lighting for insects.
Traditional Ecological Knowledge
Description: At the NRCA, we recognize that most of our curriculum focuses on Western Science perspectives, science and ways of knowing. However, this is only one way of knowing and understanding our environment and world around us. Traditional ecological knowledge, or TEK for short, is a spectrum of knowledge, practice and belief about relationships between living beings and an ecosystem built upon generations of indigenous people. TEK is used as a way to guide people as land stewards, spiritual practitioners, and moral agents.


Frequently Asked Questions
How do I apply?
High school students (grades 9, 10, or 11) need to submit a completed online application form by May 7, 2023 to be considered for the Conservation Ambassador Program. We encourage you to prepare your application responses in a text document, and then copy and paste your answers into the form before submitting. Preparing your responses in a text document will allow you to thoughtfully reply to the questions, check for any typos or other errors, and get the contact information (e.g., email) of one adult recommender (e.g., educator, coach, counselor, mentor, current or former employer, etc.) before you submit your application. Please note: you will no longer need to submit a teacher recommendation; you only need to provide their contact information.
Applications are due May 7, 2023. If you have any questions or need assistance with the application form, please feel free to email Laura Cisneros (NRCA Director) at laura.cisneros@uconn.edu at any time.
How much does it cost and what is included?
It is our goal to make the Conservation Ambassador Program (CAP) available to all students regardless of financial circumstances. Thanks to generous funding sources, the cost of CAP ranges from no cost to a reduced fee.
No Cost:
CAP is free to...
students attending a qualifying school (i.e., Title 1 schools or schools with >50% of the student population qualifying for free/reduced lunch; check if your school qualifies here:

https://nces.ed.gov/ccd/schoolsearch/

)




or

students who qualify for free/reduced lunch themselves
Reduced Fee:
For students who do not meet the above requirements, CAP program fees are determined by a sliding scale that takes into account annual household income and the number of claimed dependents. Additional financial assistance may also be provided on a case by case basis. See the 2022 sliding fee scale below:
| | | | |
| --- | --- | --- | --- |
| 2022 Household Adjusted Gross Income | 1 Dependent | 2 Dependents | 3+ Dependents |
| Less than $30,000 | $80 | $65 | $50 |
| $30,001-$50,000 | $164 | $132 | $100 |
| $50,001-$70,000 | $248 | $199 | $150 |
| $70,001-$90,000 | $332 | $266 | $200 |
| $90,001-$110,000 | $416 | $333 | $250 |
| $110,001 and up | $500 | $400 | $300 |
Environmental Action Project Stipends:
Thanks to a Giving Day campaign, we are able to provide need-based stipends to a subset of CAP students! This means you could get paid as you work on your environmental action projects. These stipends will be awarded based on financial need.
What We Provide to All CAP Students:
Field experience activity supplies
Field experience food and lodging
Field experience transportation
Community project guidance and multi-layered mentorship for 9 months
Some field equipment supplies for community project
Conference registration fees for student, community partner and one adult and poster printing
If you have any questions, please feel free to email Laura Cisneros (NRCA Director) at laura.cisneros@uconn.edu at any time.
Where and when is the summer field experience held?
Where:
The field experience is held at the University of Connecticut's Storrs Campus. During the one-week training experience in July, students will stay in college dorms and eat in the dining halls. With the 2,100 acre UConn Forest as a classroom, students will explore various components of the natural environment, as well as nearby lakes, streams, and wetlands.
CAP students will stay in a residence hall with gender-separated floors of the building or on separate floor wings, and will have gender-separated and gender-neutral bathrooms and shower rooms. All CAP students will share common areas of the residence hall for meetings and activities. At check-in, CAP students will learn which dorm room they will be staying in. The graduate student and Difference Maker Mentor staff will stay in the dorms to supervise CAP students.
Directions: Details on where to go for check-in and pick-up will be provided in enrollment materials.
When:
Check-in: July 16, 2023 (Sunday) between 11:00 a.m. to 12 p.m. outside resident hall (details and directions to specific resident hall included in enrollment material)
Pick-up: On July 22, 2023 (Saturday), families and friends of CAP students are invited to attend the field experience closing ceremony at 9:00 a.m. (details and directions to specific location provided in enrollment materials). Check-out of the dorm will follow the closing ceremony.
What is a typical day like?
Typical Day at the CAP Field Experience:
Time of Day
Activity
7:00-8:00
Breakfast
8:00-8:15
Community Check-in & Orientation of Day's Events
8:15-12:00
Field Activities
12:00-1:00
Lunch
1:00-5:00
Field/Lab/Computer Activities
5:00-7:00
Dinner & Break
7:00-10:00
Evening Fun Activities with Staff (e.g.,

BBQs, lake swimming, campfires, and more!)
2022 CAP Field Experience At-A-Glance (2023 Version Coming Soon):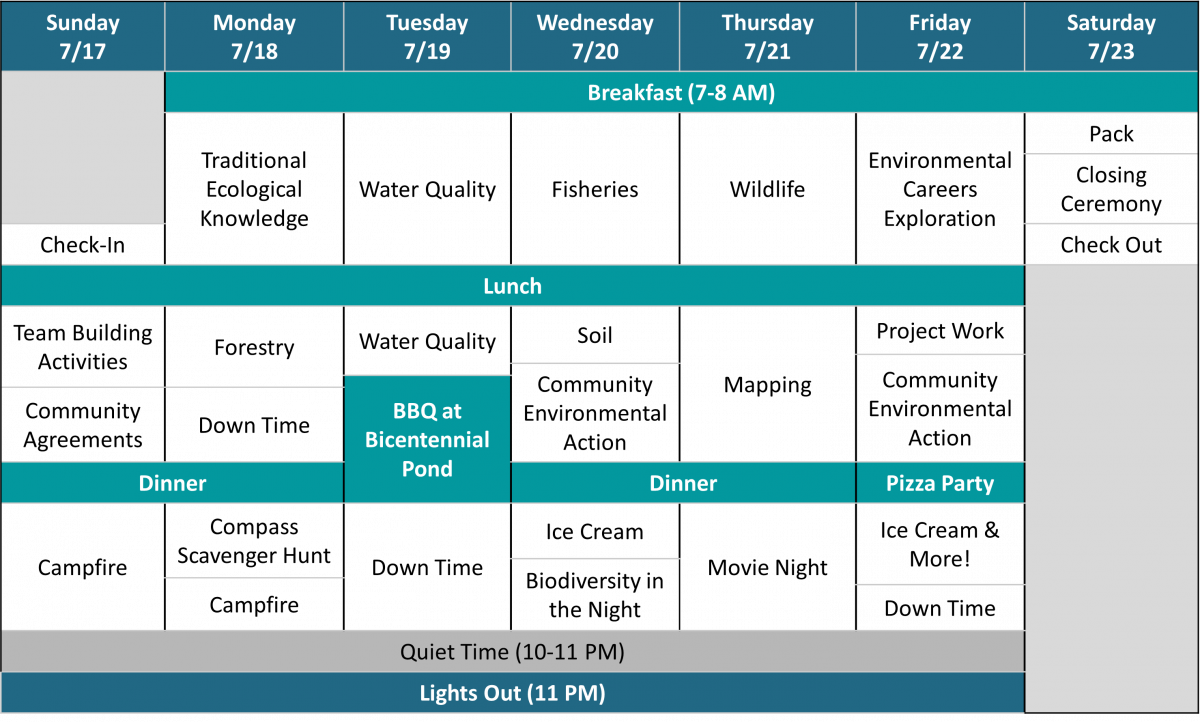 What should or should I not bring?
Items to Bring:
Each day will be packed with fun activities! You should expect to spend a lot of the day outdoors and being active, including walking and hiking throughout the day. Also, keep in mind the potential for variable weather. When packing, choose items that can get dirty, are comfortable, and provide appropriate cover for walking through forests. We suggest the following:
Clothing: Comfortable, casual clothing is appropriate for most sites and activities. Please remember that you will be working with university professionals – we encourage you to dress in a manner that is respectful to students and staff members. Also, please keep in mind the potential for variable weather and for varied temperatures within buildings (e.g., it might be hot outside but cold in an air-conditioned building). We encourage you to bring extra clothes for times when you get dirty and would like to change during the day. Please consider the following suggestions and site-specific expectations for clothing items:
Sneakers/hiking shoes (e.g., comfortable shoes that are good for doing a lot of walking and can get muddy)
Water shoes
Hat
Swimming suit
Clothes appropriate for outdoor activity and fieldwork (clothing that can get dirty)

7+ pairs of field pants
3+ pairs of field shorts (you will wear pants more often than shorts)
7+ t-shirts
3+ long sleeve shirts,
1+ sweatshirt(s)

Comfortable clothes for indoor activities to change into after field activities
Rain coat
One nice outfit for the closing ceremony presentation
Personal Items:
Toiletries (e.g., toothbrush, toothpaste, soap, shampoo, conditioner, etc.)
Sunglasses
Sunscreen
Bug repellant
Medications (labeled)
Shower caddie
Extra set of contacts/glasses
Towel for lake swimming
Other Items:
Laundry detergent (optional)
Alarm clock (optional)
Backpack
Pens/pencils
Notebook/paper
Laptop (optional)
Water bottles
Camera (optional)
Fan (rooms will not have A/C)
Please note that while the program does not prohibit students from bringing cell phones, they are to be used in an appropriate setting (i.e., in dorm rooms in the evening after daily activities) and maintained by the student. Students will not be allowed to use these devices during daily activities. Neither the NRCA nor UConn is responsible for any lost, stolen or damaged personal items.
If you need help getting any of the suggested items above, please email Laura Cisneros (NRCA Director) at laura.cisneros@uconn.edu for assistance.
Items NOT to Bring:
Most of the housing necessities you will need are provided for you while at the field experience, including:
Pillows/bed linens (unless you want your own pillow)
Blankets
Food (food and snacks will be provided)
Students are NOT permitted to bring TVs or appliances such as microwaves, refrigerators, or air conditioners. Students should leave the following items at home:
Car/bike
Video games
TVs, microwave, A/C units or other appliances
What about medications, allergies, or special meal requirements?
As part of your enrollment forms (specifically the Medical History Records Form), we will ask you to indicate allergies and physical exercise limitations. Administration of medication will be the responsibility of the participant. Only bring as much medication as is reasonably needed during the week. Medical kits, supplies, and certain permitted over-the-counter medications will be provided to students, if needed.
UConn routinely accommodates a wide range of special meal requirements, which you can indicate on your enrollment forms as well. We will also make sure to accommodate any food requirements for snacks and meals that occur outside of the UConn dinning halls.
Can you tell me more about the community environmental action project?
Each CAP student has the opportunity to carry out a local environmental action project. But you won't be alone! You will receive multi-layered mentorship support from an undergraduate student Difference Maker Mentor and a local community partner. You will also have extra guidance, support and resources from Dr. Laura Cisneros (NRCA Director) and a graduate student mentor.
The projects will be tailored to your unique interests and local community need. The goal is for the project to have a positive impact or benefit to your community (as identified by you and your community partner). How much time you commit to your project can be very flexible to accommodate your schedule, and you can gradually work on your project from July 2023 to March 2024.
We make every effort to support students in identifying environmental actions they are passionate about and help students identify potential community partners during and shortly after the field experience. Students are welcome to contact the Laura Cisneros (NRCA Director) at laura.cisneros@uconn.edu to chat about environmental action ideas or potential community partners.
If I'm a high school senior, how can I participate in a CAP-like program?
Unfortunately, we are unable to accept applications from students that are currently in 12th grade (planning to graduate in Spring 2023) as CAP participants need to be in high school through March 2024.
I have more questions.
Do you have more questions? Please contact Laura Cisneros (NRCA Director) at laura.cisneros@uconn.edu and she'll be happy to answer additional questions you may have!


CAP Staff, Instructors & Difference Maker Mentors
Environmental Motto & Superpower

Laura Cisneros
(she/her/ella)
NRCA Director
Leadership Team
Assistant Extension Professor
Department of Natural Resources & the Environment; Institute of the Environment
Motto: Promoting collective action for environmental conservation & cultural celebration
Superpower: Partnership forger

Nicole Freidenfelds
(she/her/hers)
NRCA Program Lead
Leadership Team
Visiting Assistant Extension Educator
Department of Natural Resources & the Environment
Motto: I brake for snakes!
Superpower: Box turtle whisperer

NRCA Grad Mentor
Leadership Team
Master's Student
Department of Natural Resources & the Environment
Motto: Reciprocity, compassion, and cooperation are essential to a thriving ecosystem
Superpower: Curiosity, inquiry, and wonder

Leilani Duarte
(she/her/hers)
NRCA Difference Maker Mentor
Leadership Team
Undergrad Student
Natural Resources Major
Motto: Protecting wildlife, protecting ourselves
Superpower: Conducting research related to wildlife

Leah Gichuru
(she/her/hers)
NRCA Difference Maker Mentor
Leadership Team
Undergrad Student
Molecular & Cellular Biology Major
Motto: Conserve the environment that your future generation deserves
Superpower: Ability to network and connect with people from different backgrounds, and communities and bring them together to achieve a common goal

Ilana Goldner
(she/her/hers)
NRCA Difference Maker Mentor
Leadership Team
Undergrad Student
Ecology & Evolutionary Biology Major
Motto: Be kind to and care for all things on Earth; from mountains to streams, trees to leaves, gorillas to slugs, and all people
Superpower: Being in awe of the world and sharing its beauty to help people discover their own ways of connecting with nature

NRCA Difference Maker Mentor
Leadership Team
Undergrad Student
Economics & Environmental Studies Majors
Motto: "When you know better, do better." - Maya Angelou
Superpower: Care and connection

Sydney Seldon
(she/her/hers)
NRCA Difference Maker Mentor
Leadership Team
Undergrad Student
Environmental Science & Environmental Policy Majors
Motto: "We but mirror the world. All the tendencies present in the outer world are to
be found in the world of our body. If we could change ourselves, the tendencies in the world would also change. We need not wait to see what others do."- Gandhi
Superpower: Empathetic Connection Architect

Cary Chadwick
(she/her/hers)
Extension Educator
Department of Extension; Center for Land Use Education & Research (CLEAR)
Motto: Maps make anything seem possible
Superpower: Telling you where you've been, where you are going, and where your headed…with maps!

Xóchitl A. Garcia
(she/her/ella)
Urban Farmer & Agriculture Educator
Motto: Local action, global impact
Superpower: Growing organic veggies and flowers in places that you otherwise wouldn't think, like an abandoned parking lot!

Christine Georgakakos
(she/her/hers)
USDA Postdoctoral Fellow
Department of Natural Resources & the Environment
Motto: Water is a great connector: I strive to ensure that connection remains positive after water interacts with human systems
Superpower: Enthusiasm! (Especially for tea and propagating plants)

Ashley Helton
(she/her/hers)
Associate Professor
Department of Natural Resources & the Environment; Center for Environmental Sciences & Engineering

Resource Soil Scientist
USDA Natural Resources Conservation Service
Motto: Dig soil!
Superpower: Enthusiasm about soils, landscapes and mapping… able to leap small soil pits in a single bound!

Associate Professor
Department of Natural Resources & the Environment
Motto: Animals need space too.
Superpower: Ability to walk through forest at night in the rain and not get lost.

Debbie Surabian
(she/her/hers)
CT & RI State Soil Scientist
USDA Natural Resources Conservation Service
Motto: Don't treat your soil like dirt
Superpower: I heart soil: the best ally in the fight against climate change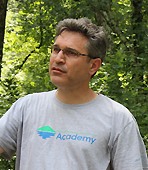 Professor and Department Head
Department of Natural Resources & the Environment
Motto: A deep understanding of nature only happens when the false barrier between you and it dissolves: for me that happens most with rivers
Superpower: Similar to batman I have no superpower, rather I wield electrofishing technology in the name of conservation…

Michael Willig (he/him/his)
Professor & Director
Department of Ecology & Evolutionary Biology; Institute of the Environment
Motto: Environmental understanding for sustainable future
Superpower: Integrator

Extension Educator
Department of Extension; Center for Land Use Education & Research (CLEAR)

Associate Extension Professor
Department of Extension; Department of Natural Resources & the Environment
Motto: We all live in the woods.
Superpower: I know the names of all the trees, how they grow, their ecological and morphological characteristics, where to find them, other trees with which they associate, and their wood qualities.



Program Resources of 2022-23 CAP Students
Before the Field Experience
CAP Participant Handbook

Check out the CAP participant handbook with detailed information on the field experience & environmental action project. Includes information on the program schedule, accommodations & facilities, policies and expectation and a packing list.

CAP Core Leadership Team

The 2022 CAP Core Leadership Team is comprised of five undergraduate Difference Maker Mentors, one graduate assistant, a program coordinator, and the NRCA director. Information about all the CAP instructors can be found above.

CAP Field Experience Schedule

Take a peak at the summer field experience week!
Field Experience Resources
Environmental Action Project Resources
CAP Environmental Action Project

Learn more about the project timeline, mentee support and resources here.

Project Planning and Development

Use this guide template to co-develop your community environmental action project with your NRCA mentor and community partner here.

Conference Poster Details

Showcase your amazing environmental action work by using this poster template to guide you through the process of making a professional, polished conference poster!.

CAP Communication Guidelines

Learn more about best communication practices between mentees, community partners and NRCA staff here.

Community Partner Role

Learn more about the role and responsibilities of a Community Partner here.

Contacting your Community Partner

Use this guide on how to draft an email to a potential or current community partner here.

Prep for a Community Partner Meeting

In this guide are tips on how to prepare for your first community partner meeting, including what to do before, during and after the meeting.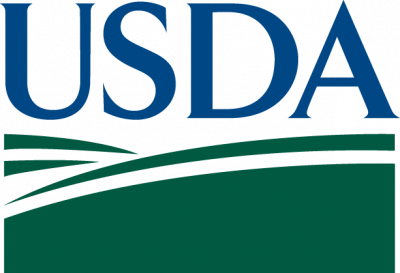 NRCA's Conservation Ambassador Program (CAP) is currently supported by a generous 5-year donation from the original private family foundation, from a grant from the Community Foundation of Eastern Connecticut, and from a grant from the USDA Women & Minorities in STEM Fields (WAMS-2021-38503-34817) .
CAP began in 2011 as the result of a very generous 5-year donation from a private family foundation. Since then, the program has also been supported by the Goldring Family Foundation, the Diebold Foundation, the Peter Grayson Letz Fund for Animals and the Environment, the SURDNA Foundation, and the CT Institute for Resilience & Climate Adaptation Matching Fund Program. Intramural support for the program has come from the Department of Natural Resources & the Environment, the Institute of the Environment, the College of Agriculture, Health & Natural Resources, and the Office of the Provost.